scouring wool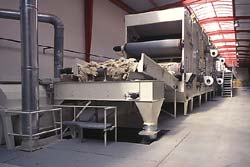 "From the past that our wool defines our way, so we want in our future that the quality of our wool allied with the latest technology combined with environment preservation reach the next generations."

Keeping the tradition in the art of scouring wool, the Tavares scouring plant, is in activity since June 2002 with a line of scouring technology, brand ANDAR ( New Zealand ). This stands out for continuous improvement of the process of scouring wool and preservation of the environment by implementing new procedures and equipments.

The Textile Manuel Rodrigues Tavares, S. A (TMRT) is guided by the full satisfaction of the Client, and the implementation of measures to improve, always trying to full fill the legal requirements applicable to their activity.

There is to emphasize the improvement of wool quality through constant monitoring through laboratory testing and research of new procedures, as well as concern for the environment, reflected in the separation of the residues, or with biological treatment of water from scouring wool in our EPTAR.

The scouring plant has yet implemented a Quality Management System certified by SGS - ICS and in accordance with standard NP EN ISO 9001:2000, which has been recognized by our customers as a guarantee of confidence.

The recognition from the scouring plant extends beyond borders, including Spain , France , among others.
Quality Policy
The main concern of this company since its founding, has been getting better meet the expectations of our customers, improving productivity, your organization and the quality of our services in order to consolidate leadership in markets where we operate and to affirm the our position on a European scale. Continuously increasing our competitively, we continuously optimizing processes management system, developing a participatory management and make the most of the existing potential.
Mission Statement
Provide services to ensure the expectations and the needs of our customers. Ensure a sustainable and lasting competitive offering against the capital invested. Encourage continuous improvement for the effectiveness of the system and the compliance in accordance with NP EN ISO 9001.
Principles
Commitment
Quality is an attitude that demands continuous improvement of individual performance. Quality is assured only with the involvement of all employees of the company, that is, with teamwork, with the sharing of information and knowledge. It is for all the effort and the responsibility to continuously improve its quality. Our relationship with customers, suppliers and other partners based on respect for commitments and compliance and legal requirements.
Competence
Have the technical capacity and organization capable of providing a systematic way the quality level required by our clients. Our products are our image abroad.
Confidence
The demands of our customers are challenges, we seek to overcome in order to serve them even better. Continuously improve quality and increase customer satisfaction in order to maintain its preference for our services, these are the key factors for the Company.
Objectives
Developing a culture of continuous improvement through systematic monitoring of the effectiveness and efficiency of the Quality Management System by strengthening our competitiveness.
Train, motivate and assigning responsibilities to all employees of the company, encouraging self - control as a strategic tool of the production cycle as well as provide good working conditions in order to contribute to their functions performance.
Contribute to the improvement of our surrounding - environmental, social and cultural